Domus,
the highest quality in laundry equipment.
The industrial laundry specialist
This world-renowned European brand offers a wide range of ultra-efficient industrial washers and dryers. Thanks to their advanced microprocessors, you will be sure to get the results you need, whatever the items to be cleaned.
A socially and environmentally responsible company
Domus' commitment to quality is evident not only in its products, but also in its social and ecological commitment. The company strives to provide solutions that have minimal impact on the environment, while maximizing performance. Their energy-efficient industrial washers and dryers use less water and electricity than traditional models.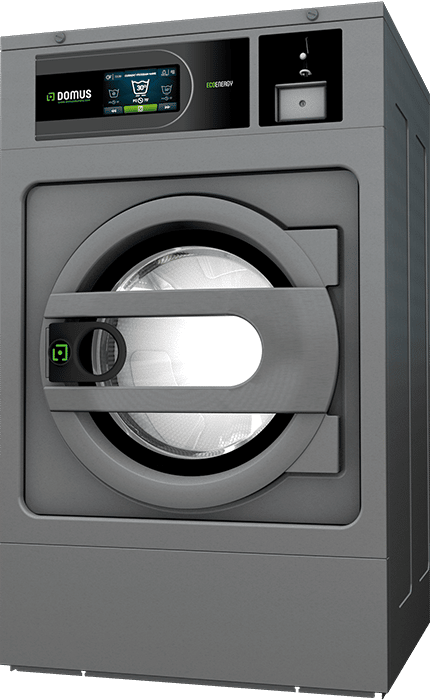 Domus' full line of machines includes high-speed washers, high-performance dryers, and even specialized machines for unique materials. With reliability as one of their core values, all machines come with a warranty that ensures optimal operation over time with minimal maintenance. These machines are an excellent choice for professional laundries and other businesses looking to make a long-term investment in reliable laundry equipment.
Powerful, energy-efficient and versatile laundry solutions
Domus is based on five fundamental concepts, which guide all aspects of its production:
High performance
Energy efficiency
Connectivity
Robustness
Versatility
The company's mission is to meet the needs of professional laundries worldwide, which are increasingly demanding and competitive. Domus stands out for its cutting-edge technology combined with sustainable practices. As such, the entire team strives to guarantee its customers the best possible machines, while prioritizing the environment and the natural resources used in production.
Dalex Jacar, exclusive Domus distributor in Quebec
In Quebec, Domus products are offered exclusively by Dalex Jacar. Domus offers a complete range of services to all its customers and distributors. The customer experience is always at the center of their concerns, both from a commercial and technical point of view. Dalex Jacar works closely with its distributors. Our team is fully trained on the Domus line of industrial washers and dryers to provide you with the best possible service. Our experts will be with you every step of the way, from your initial planning questions to after-sales service. Contact us to learn more about Domus laundry equipment.